Portland Festival of Trees
415 Congress St, Portland (next to City Hall)
The Festival of Trees is the primary fundraiser for the Portland Children's Dyslexia Center. As such, it is essential to teaching children with dyslexia how to read. We sincerely thank you for supporting our festival this year. Proceeds from this event support the tutoring of children with Dyslexia at no charge to parents at the Portland Children's Dyslexia Center.
At last year's event, the Armory of the Portland Masonic Building was ablaze with poinsettias, garland, lights, and 30 fully decorated Christmas trees with a tantalizing array of gifts for the first annual Festival of Trees in December. Event proceeds will support the Portland CDC that is currently working with 40 children at the Portland Center and in schools in both Lewiston and Auburn.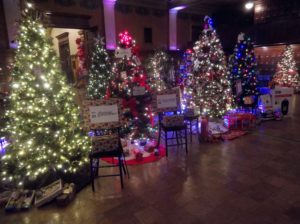 Admission is only $5 for adults and free to children under 12 when accompanied by an adult.
Join us this year for another spectacular event.
Friday & Saturday, November 25 & 26 from 10am to 9pm
Sunday, November 27 from 10am to 5pm
Friday & Saturday, December 2 & 3 from 10am to 9pm
Sunday, December 4 from 10am to 5pm
Begin the joyous holiday season listening to holiday music and wandering amongst beautifully decorated Christmas trees that you might bring home! Plan your adventure today!
Enjoy Over 30 Decorated Trees Trees with decorations and gifts will be raffled off.
Tickets are ten for $10 – Deposit tickets at the trees you hope to win.
LL Bean Gift Card Raffle: $1,000, $750 & $500 prizes
(only 2,000 tickets will be sold at $10 each. Drawing on December 4th)
50/50 Raffle with drawings on November 27 & December 4
(Tickets are $5 each)
Interested in sponsoring a tree?