211th Annual Session, Louisville, Kentucky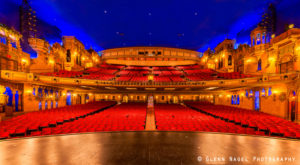 When: August 26 through 29, 2023
Where: Lexington, Kentucky – Louisville Palace Theatre
Hotel: Marriott Louisville Downtown, 280 W Jefferson St, Louisville, KY
Check In
Candidates & Attendees: depending on when you arrive in Lexington (Thursday, Friday, or Saturday), after checking in at the hotel, you will want to make your way to the "Bluegrass Ballroom" at the Marriott Hotel to check in with Scottish Rite staff and get your registration packet and lanyard.
There is also a marketplace room with vendors that sell Masonic things from t-shirts, sweat- shirts, jewelry and more. Be sure to get your Louisville Scottish Rite shirt.
Sunday 8/27/2023
11 am to 1 pm
Our Deputy, Jeff Simonton, plans to have us all meet in the hotel to answer any questions, and the women will be given a list with all our cell phone numbers so that we can connect. (Men & Ladies dress casual)
Vesper Service – 4:00 pm
Louisville Palace Theatre
Doors open 3:00 pm
There will be a collection plate passed around during the service.
Men Dress: Jacket & Tie
Ladies Dress: wear a dress
Candidates Celebration with Sovereign Grand Commander  5:30 pm
This event is for Candidates and their lady only. You will be a guest of the Sovereign Grand Commander.
Monday 8/28/2023
9 am – 12 pm
General Session
Louisville Palace Theatre
Doors open 8:00 am
Men Dress: Jacket & Tie
Ladies: Dress or Business Outfit
Wear the lanyard they give you at registration – this is your admission ticket to all events. It has a plastic sleeve you can stick your room key in and a little cash if you do not want to carry a pocketbook. You will want an early breakfast. There are several restaurants in the downtown area but keep in mind some places may have slow service and you do not want to be late (so many people attend from the Northern Masonic Jurisdiction that it is a lot of people to feed breakfast). You may want to consider purchasing or bringing some light breakfast food to keep in your room like breakfast bars etc. Candidates and and their lady have special seating sections, so you do not have to stress out too much if you are running late. There will be buses from the hotel to the theater, but it is also walkable
12:00 pm to 6:00 pm – On your own
Evening Entertainment
6:00 pm to 10:00 pm
Churchill Downs
Transportation begins at 5:45 pm
Dress: Casual/ Derby Themed
Dinner & Entertainment. This is a casual night. Capris or slacks are appropriate. Some will wear the Maine Scottish Rite polo shirts. Not everyone will but if you are interested the marketplace will be selling shirts but without the Maine logo. We do not have more details about the evening, but the last two sessions had this format. One was a beer garden with polka music and beer drinking and one was the Rock and Roll Hall of Fame. Both venues had food. We have been told that there is a museum at Churchill Downs to visit.
Tuesday 8/29/2023
11 am  General Session of the Supreme Council
The candidates will have to be at the photo session and degree. Ladies, you will not see him until he returns.
11:30 am Ladies Luncheon (candidates only) – Harriet Stretton will be hosting a candidate's ladies' luncheon along with a few veteran ladies.
After lunch you will have time to go back to your room and get ready for the formal Maine State Banquet.
Conferral of the 33° Degree (candidates only)
Louisville Palace Theatre
Doors open 2:15 pm
Dress: Full dress tuxedo/tails
3:00 pm Women usually gather in the hospitality room all dressed for the evening while we wait for the guys to return. Watching them come back is a sight to be seen and incredibly fun to watch. It is a sea of penguins walking back to our hotel. The smiles on the candidate's faces are beautiful (this is a wonderful time to have a picture taken with your partner).
5:45 pm Maine State Banquet – Social Time immediately following the 33°
6:45 pm Dinner – Followed by the Presentation of 33° Jewels.
Here are a couple of photos from past sessions that will give you an idea of the formal wear for Tuesday evening
Candidates from Maine
Androscoggin
Michael R Roy, MSA (lady Tracey)
Benjamin J Weisner, MSA (lady Cassidy)
Aroostook
Derik L Smith, MSA (lady Ellyn)
Augusta
Kevin E Campbell, MSA (lady Nancy)
Bangor
Daniel E Bartlett (lady Susan)
Patrick C Whitney, MSA (lady Janis)
Portland
Edward A Caron Jr (lady Claire)
Bruce M Knowlton, MSA (lady Lynn)
A. Paul Williams
Rockland